Scientology Campaign Reaches Out in London With the Truth About Drugs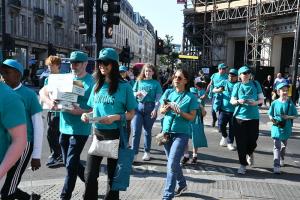 Dozens of volunteers from the Church of Scientology hit the streets of London with their Truth About Drugs campaign. Piccadilly was awash in teal—the signature color of the Truth About Drugs campaign. Volunteers, including an East Grinstead youth group called the Saint Hill Lions, joined the drug prevention effort. Drug-Free World volunteers at the 2012 […]
The post Scientology Campaign Reaches Out in London With the Truth About Drugs first appeared on News Abc.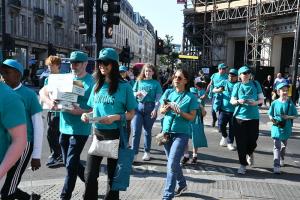 Culture News - News Abc originally published at Culture News - News Abc
Scientologists took to the streets with their Truth About Drugs campaign to counter rising drug-related deaths in the UK
LONDON, ENGLAND, June 18, 2023/EINPresswire.com/ — Wearing signature teal T-shirts of Foundation for a Drug-Free World, volunteers from the Church of Scientology of London handed out thousands of drug education booklets in the heart of London in advance of UN International Day Against Drug Abuse and Illicit Trafficking. Their purpose: To take effective action against drug overdose deaths in their country. Five years ago, the UK government estimated the cost of illicit drug abuse at £10.7 billion and the social and economic costs of alcohol-related harm at £21.5 billion. According to the UK Office of National Statistics, drug-related deaths in the UK have risen to an all-time high. Drug prevention has never been more important.
The United Nations Office on Drugs and Crime has found: "Prevention strategies based on scientific evidence working with families, schools, and communities can ensure that children and youth, especially the most marginalized and poor, grow and stay healthy and safe into adulthood and old age. For every dollar spent on prevention, at least ten can be saved in future health, social and crime costs." This is fulfilled by the secular drug education and prevention campaign supported by the Church of Scientology and Scientologists.
UK Scientologists have long been active in drug prevention. They took their campaign to the 2012 London Olympics, the 2014 Glasgow Commonwealth Games, and a 26-day, 965 km (600 mile) run from the tip of England to Edinburgh. The Jive Aces, UK's No. 1 Jive and Swing Band, hold frequent events where they promote the Truth About Drugs campaign.
Scientology Founder L. Ron Hubbard noted the role substance abuse plays in the disintegration of the social fabric. He wrote: "Research has demonstrated that the single most destructive element present in our current culture is drugs."
Using the resources from Foundation for a Drug-Free World, volunteers in countries across the globe are reaching their communities with this vital information. See how effective this initiative is by watching episodes of Voices for Humanity on the Scientology Network.
The Scientology Network is available on DIRECTV Channel 320, DIRECTV STREAM, AT&T U-verse and can be streamed at www.Scientology.tv, on mobile apps and via the Roku, Amazon Fire and Apple TV platforms. Since launching with a special episode featuring Scientology ecclesiastical leader Mr. David Miscavige, Scientology Network has been viewed in 240 countries and territories worldwide in 17 languages.
Media Relations
Church of Scientology International
+1 323-960-3500
email us here
Visit us on social media:
Facebook
Twitter


Originally published at https://www.einpresswire.com/article/639996350/scientology-campaign-reaches-out-in-london-with-the-truth-about-drugs
The post Scientology Campaign Reaches Out in London With the Truth About Drugs first appeared on News Abc.
Culture News - News Abc originally published at Culture News - News Abc